WEDGE LOCK SYSTEM IS AN EXTREMELY VERSATILE SYSTEM AND CAN BE ERECTED FOR STRAIGHT, CURVED AND CIRCULAR SCAFFOLDING STRUCTURES AND ALL FORMS OF TOWERS. THE MAIN ADVANTAGE OF WEDGE LOCK SYSTEM COMING FROM THE UNIQUE "C" FLANGE AND SOCKET PERMITS A FULL 60 ANGLE ADJUSTMENT TO HUG RADIUS WORK. THE SIZE AND SHAPE OF THE STRUCTURE DO NOT RESTRICT WEDGE LOCK SYSTEM.

WEDGLOCK SYSTEM MANUFACTURED TO GIVE PERFORMANCE COMPLYING TO BS1139 PART 5, HD 1000, OSHA & AS / NZS 30120 ENSURING STRONG & SAFE PERFORMANCE.

STANDARDS / LEDGERS ARE MANUFACTURED FROM 48.3MM O.D WITH 3.2MM GAUGE HIGH TENSILE STEEL AS PER BS 4360 50C.

SEVERAL FINISHES AVAILABLE PAINTED / POWDER COATING / ELECTRO GALVANISATION.
SPECIALISED IN CUSTOMISING THE PRODUCTS AS PER THE SPECIFICATIONS PROVIDED.
STANDARD / VERTICAL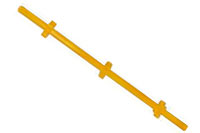 EWS 01

| | | |
| --- | --- | --- |
| CODE | Size (m) | Wt. (kg) |
| EWS-0100 | 4.0 | 20.00 |
| EWS-0101 | 3.5 | 17.60 |
| EWS-0102 | 3.0 | 15.20 |
| EWS-0103 | 2.5 | 12.80 |
| EWS-0104 | 2.0 | 10.40 |
| EWS-0105 | 1.5 | 8.00 |
LEDGER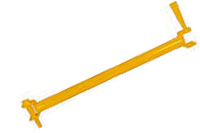 EWS 02

| | | |
| --- | --- | --- |
| CODE | Size (m) | Wt. (kg) |
| EWS-0200 | 2.5 | 9.80 |
| EWS-0201 | 2.0 | 7.90 |
| EWS-0202 | 1.5 | 6.10 |
| EWS-0203 | 1.294 | 5.30 |
| EWS-0204 | 0.9 | 3.90 |
| EWS-0205 | 0.6 | 2.50 |
CANTILEVER BEAM FRAME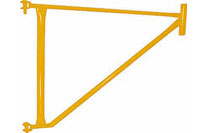 EWS 03

| | | |
| --- | --- | --- |
| CODE | Size (m) | Wt. (kg) |
| EWS-0300 | 1.5 | 18.17 |
| EWS-0301 | 1.0 | 15.25 |
| | | |
| | | |
| | | |
| | | |