CUPLOCK SYSTEM IS A VERSTILE SCAFFOLD SYSTEM WHICHCAN BE USED FOR ALL FORMS OF ACCESS AND SUPPORT STRUCTURES IN THE BUILDING AND CONSTRUCTION INDUSTRIES, SHIPBUILDING, OFFSHORE CONSTRUCTION AND INDUSTRAIL MAINTENANCE.
CUPLOCK SYSTEM MANUFACTURED TO GIVE OERFORMANCE COMPLYING TO BS 1139 PART 5, HD 1000, OSHA & AS / NZS 36120 ENSURING STRONG & SAFE PERFORMANCE.
STANDARDS / LEDGERS ARE MANUFACTURED FROM 48.3MM O.D WITH 3.2MM GAUGE HIGH TENSULE STEEL AS PER BS 4360 50C.
SEVERAL FINISHES AVAILABLE : HOT DIV GALVANIZATION, ELECTRO GALAVANIZATION.
SPECIALISED IN CUSTOMISING THE PRODUCTS AS PER THE SPECIFICATION PROVIDED
STRENGTH : BOTH VERTICAL AND HORIZANTAL MEMBERS ARE MANUFACTURED FROM 48.3MM OD X 3.25MM HIGH TENSILE STEEL.
STANDARD / VERTICAL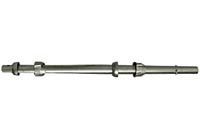 ECS 01

| | | |
| --- | --- | --- |
| CODE | Size (m) | Wt. (kg) |
| ECS-0100 | 3.0 | 16.63 |
| ECS-0101 | 2.5 | 14.00 |
| ECS-0102 | 2.0 | 11.38 |
| ECS-0103 | 1.8 | 10.60 |
| ECS-0104 | 1.5 | 8.74 |
| ECS-0105 | 1.3 | 7.97 |
| ECS-0106 | 1.0 | 5.58 |
LEDGER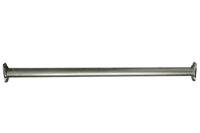 ECS 02

| | | |
| --- | --- | --- |
| CODE | Size (m) | Wt. (kg) |
| ECS-0200 | 2.5 | 9.54 |
| ECS-0201 | 1.8 | 7.00 |
| ECS-0202 | 1.3 | 5.20 |
| ECS-0203 | 0.9 | 3.60 |
| ECS-0204 | 0.6 | 2.65 |
| | | |
| | | |
INTERMEDIATE TRANSOM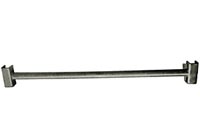 ECS 03

| | | |
| --- | --- | --- |
| CODE | Size (m) | Wt. (kg) |
| ECS-0300 | 2.5 | 11.24 |
| ECS-0301 | 1.8 | 8.71 |
| ECS-0302 | 1.3 | 6.58 |
| ECS-0303 | 1.2 | 6.72 |
| | | |
| | | |
| | | |